My blush journey has spanned many years – I have a 'high colour' complexion so the majority of cheek colours register as clowny, sunburnt or muddy on my skintone. Only recently have I developed an eye for blushers that are flattering and once I assembled my favourites, four themes emerged: biscuity/bronze shades, quasi-highlight formulas, dusty tones and pastel hues.
Whether you are naturally flushed or simply struggle to find a flattering blush (rhymes, ha!), hopefully you can find some insight within this post 🙂
Biscuit & Bronze Shades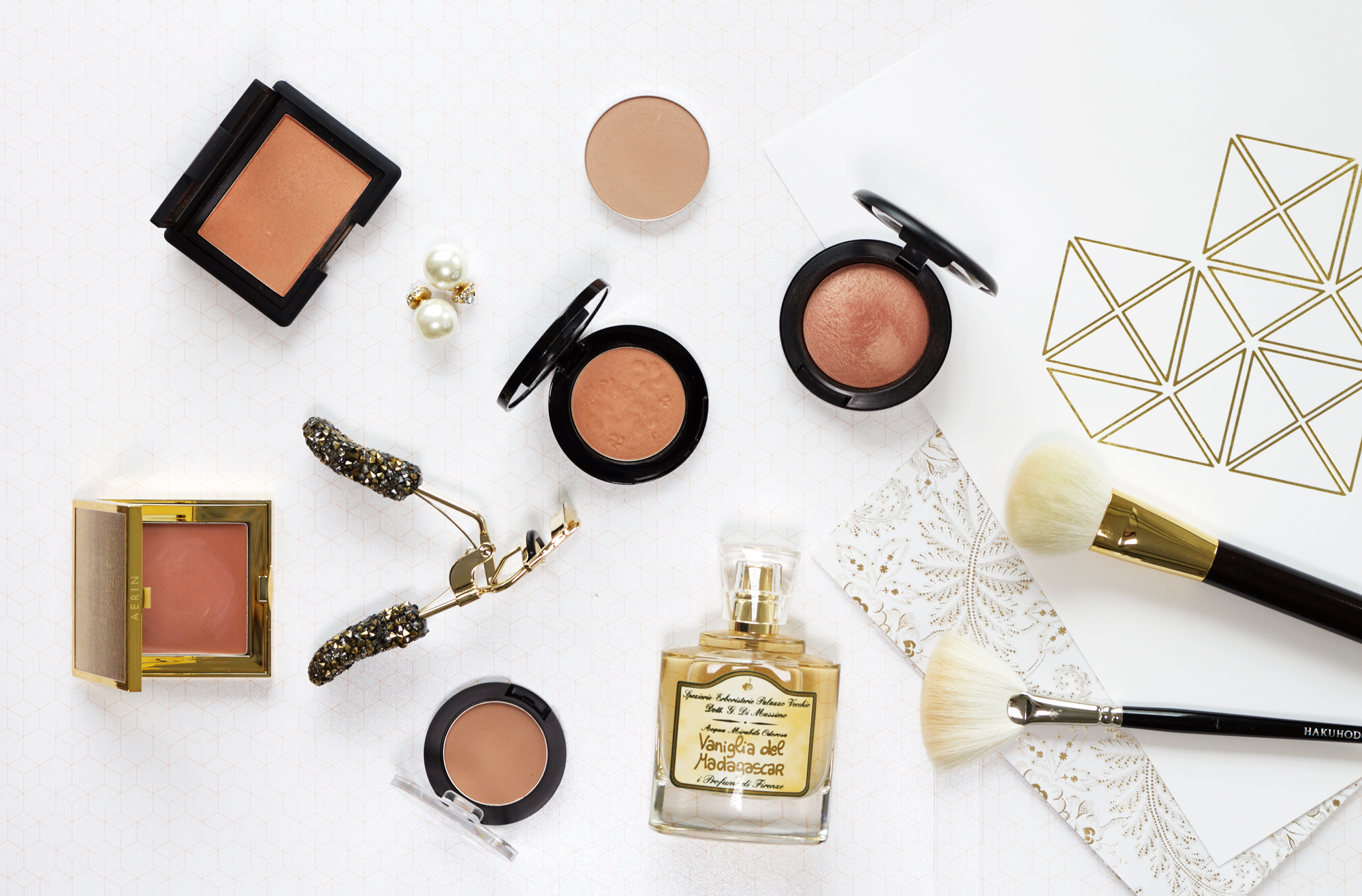 If you favour bronzer but would like to further explore blush, a biscuity or bronzey blush will likely sit within your comfort zone; the biscuit shades tend to sit well against pale, cool skintones while the richer bronze shades are flattering on medium plus, warm toned complexions.
You can absolutely pair the aforementioned blush with a regular bronzer, I find it helps to unify the different tones on the face.

FYI: Heavy swatches on an NC15 arm.
NARS – Luster // A brightened, warm blush with a coppery sheen. Rather sheer and well suited to medium and deep skintones.
MAC – Warm Soul // In the pan, Warm Soul looks deceivingly rose-toned but in swatches, it's a medium peach with golden shimmer. Flattering on a variety of depths.
Aerin – Multi Color for Lips & Cheeks in 01 Natural // Deeper than the other blushers pictured, this Aerin cream is equal parts brown (or rather, bronze) and rose. It can operate as a cream blush or applied in a bronzer placement (which will saturate the skin somewhat, due to the rose undertone).
Sigma – Mellow* // A medium, warm biscuit shade with a slight pink lean.
Rouge Bunny Rouge – Starina // Much softer than it looks in pan, Starina can be described as a pale biscuit-y peach with a subtle gold sheen. Only visible on fair to fair-medium complexions.
MAC – Personal Style // Cooler biscuit tone, slight peachy undercurrent. I believe this was limited edition, it is somewhat similar to MAC Strada (also discontinued gah).
Quasi-Highlight Formulas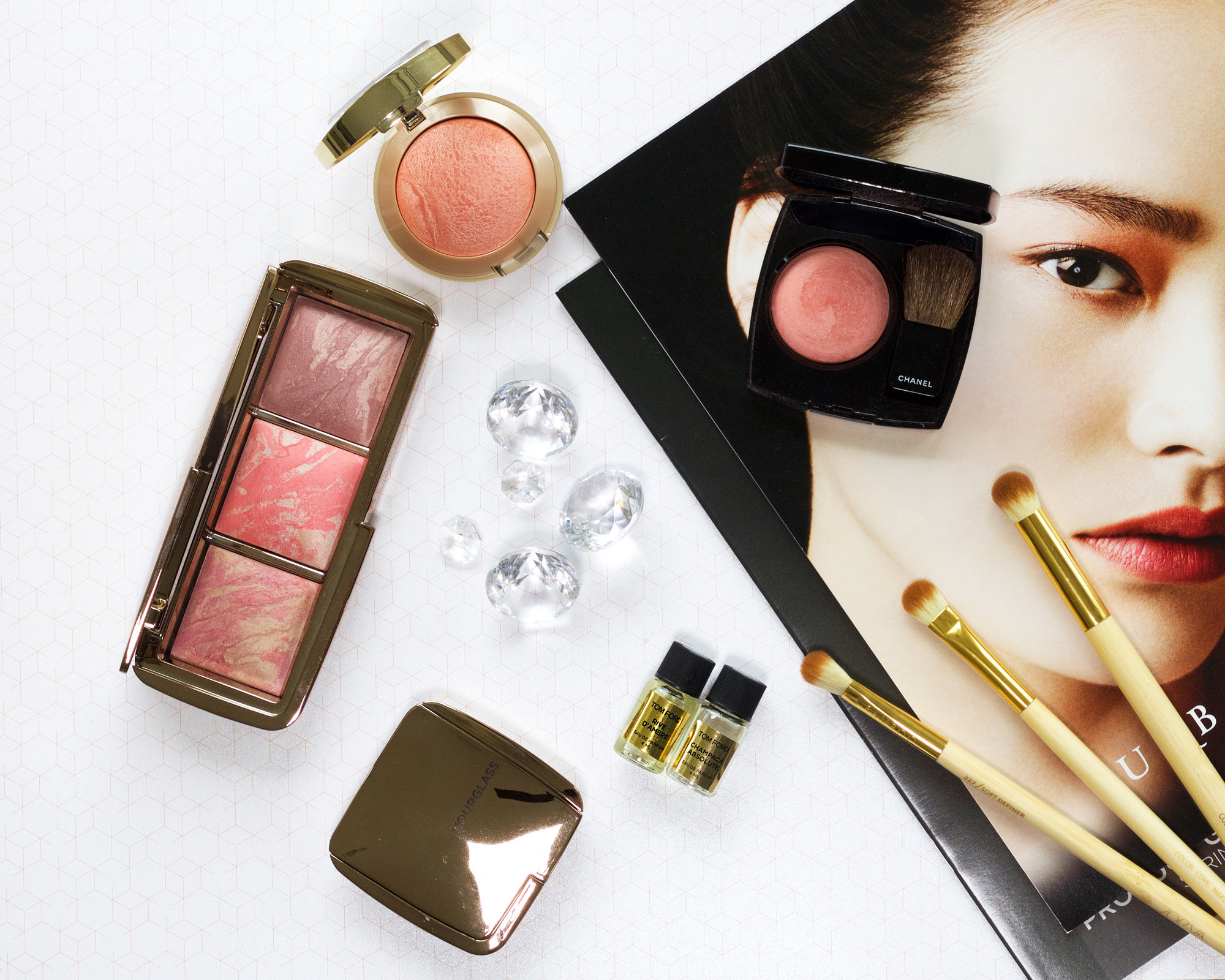 Lemme clarify, the quasi-highlight formula is typically a sheer blush infused with a decent dose of luminosity, so… the-blush-for-highlight-addicts? Obvs you gotta love a bit of shimmer for this to work but the quasi-highlight tends to be my favourite formula; a translucent wash of colour that is easy to blend and never overpowering (even with a beginner's hand or when built heavily).
Sheer is often considered a bad word but when it comes to blush, I say sheer = foolproof.

Milani – Luminoso // An all-time favourite, a pale but vibrant orangey peach with warm golden shimmer. Do note than Luminoso can pull more orange than peach on very pale skintones.
Hourglass – Ambient Lighting Blush Palette // The least shimmery of the three brands. Outstanding formula: sheer but buildable, luminous but kind to pores and stupid simple to apply. I would recommend the Hourglass Ambient blushers to anyone who prefers a barely there flush. Shades: Luminous Flush, Incandescent Electra, Mood Exposure.
Chanel – Espiegle // A pale warm pink infused with both warm and cool opalescence. Some might consider the Chanel blushers to be too sheer or too shimmery but I adore them.
Muted Dusty Tones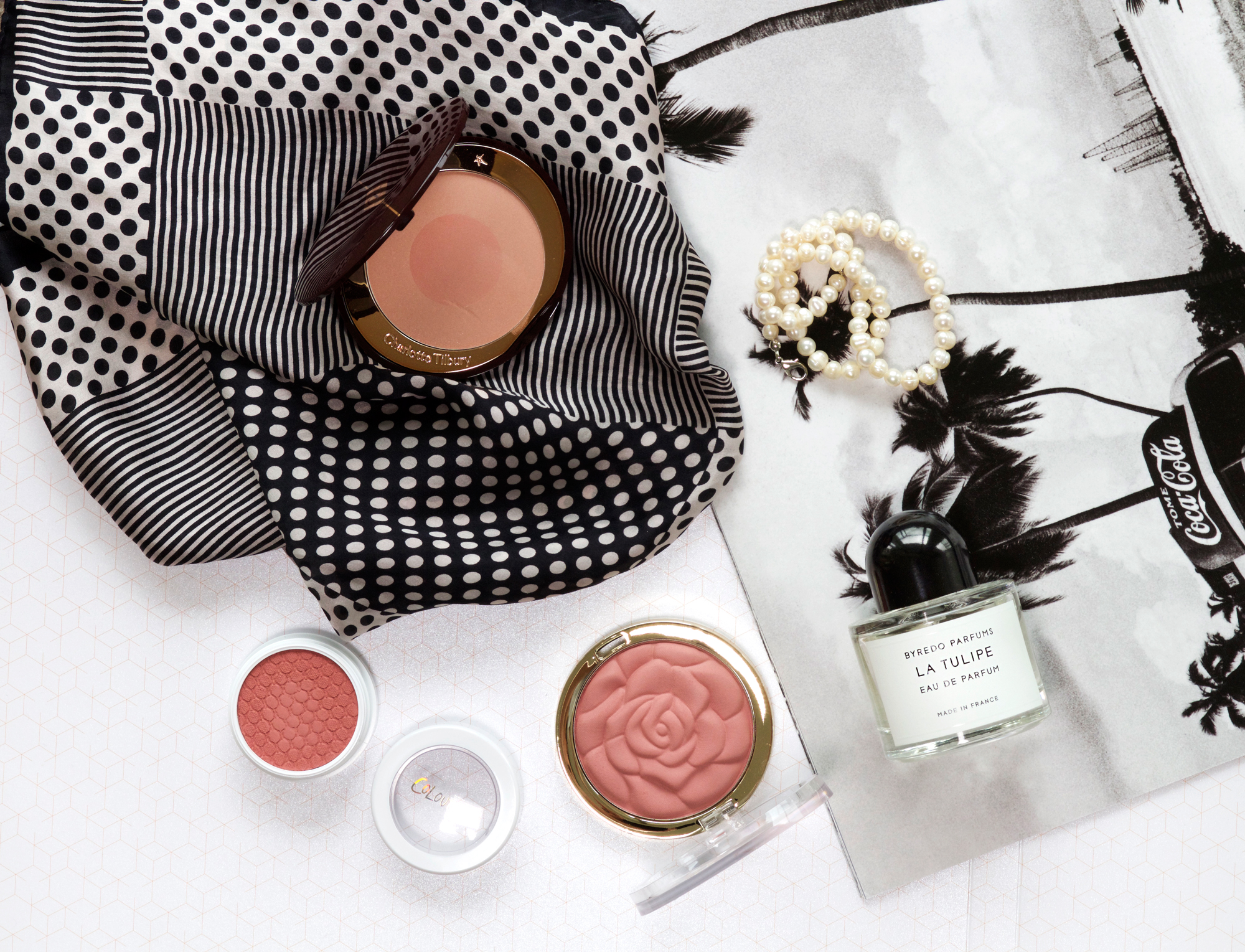 If clown cheeks are a concern, dusty or muted blushers might float your boat. Either tinged with a grey or a brown, dusty shades provide less vibrancy and are ideal if you prefer a subdued palette. NB: Muted shades can lean muddy on certain skintones, in which case you may better suit the next category.

Charlotte Tilbury – First Love* // The inner portion of the nipple blush is a dusty rose while the outer ring is a warmer peach, together I'd describe it as a medium peach with a muted quality. The formula is a satin, not matte yet not excessively shimmery. Another blush that is hard to overdo – ideal for the blush noob.
Colourpop – Between the Sheets // A matte, warm pink with a dusty undertone. Colourpop's Super Shock Cheek formula is a powder/cream hybrid that I apply in the same way I would a powder blush. The binder makes for a very long-lasting blush.
Milani – Romantic Rose // A matte, pinky-rose and the best example of a 'dusty' shade. Also that pan is so pretteh I can't even.
Pastel Hues

Pastel hues generally contain some level of white pigment, which I've found to be flattering on reddened complexions; the white pigment provides some opacity to soften a natural flush so the colour applies true to pan (reworded this sentence twenty times, I give up). My most 'complexion brightening' blushers lie within this category but worth noting that they tend to register best on the pale, pastels can throw ashy on deeper skintones.

Illamasqua – Katie // Matte pastel pink, cooler than the other pastels mentioned. Strong white base here, definitely one for the paler people (NC/NW20 and paler).
Benefit – Hervana* // Satin, warm pink. Benefit boxed blushers are very sheer so great for the heavy handed.
Makeup Geek – Smitten* // Matte, pastel apricot. To distinguish apricot from peach, Smitten doesn't have any pink lean whatsoever so perfect for those who'd prefer not to intensify a naturally pink cheek.
Arbonnne – Ballet* // Matte, pale peach. Moderate payoff.
Additional Tips
…for those who struggle with blush.
Finding the right tools is game changing, I often reach for a SUQQU Cheek or a Chikuhodo Z4, neither disrupt my foundation and both allow colour to be built very gradually.
If, like me, you have very flushed cheeks, you can either: strategically place foundation to retain some of your natural flush OR conceal the flush (partially or entirely) and get blush happy. I go both routes, depending on the day.
High colour or flushed complexions might prefer non-pink blushers. For the longest time I collected pink shades (your perfect blush is the tone you naturally flush blah blah) but in actuality, I already exhibit plenty of red and pink. I don't need more of that. Turns out, soft peaches are far more flattering on my cheeks as they give my natural flush a slightly different nuance (without necessarily adding intensity).
Experiment with blush placement, apple of the cheek appears to be the widely accepted rule of thumb and if that works for you, awesome. More often than not, I will wrap blush around the cheekbone or place it along the cheekbone – well away from my Rudolph nose to avoid a sunburnt appearance.
If you have any addition tips or product recommendations, leave them in the comments below for everyone! Also, post suggestions are always welcome – having a bit of a creative block here 😉
xxkarima
* Denotes products sent for consideration. I only feature products I love 🙂