I think it's fair to say that Colourpop broke the internet. Overnight, my Youtube and Instagram feeds were flooded with raves and impressive swatches of the Super Shock Shadows.
What the hell are they? Powders? Creams? WUT.
Prior to ordering, I did some research. It felt as though after each subsequent review, I had more questions and growing confusion because JUST TELL ME ARE THEY CREAMS OR POWDERS.
To sum up countless blog and Youtube reviews: much pigment, so creamy, wet-feeling, ooh sparkle, SO pigmented, long wearing and perhaps most prevalent… it's unlike any shadow on the market and you just have to try it for yourself. So I did.
My thoughts: I would define Super Shock Shadows as a thin, cream shadow – my swatches set entirely and I couldn't budge them with a finger (i.e. not a powder). The formula is silicone heavy so the consistency feels slippery and velvety to touch (this is where the wet-feeling/moussey claims come into play). Colourpop suggests you tightly screw the lid, another indication that indeed the formula resembles a cream.
Are they unlike any formula on the market? I would say they're not terribly dissimilar to the Chanel Illusion D'Ombre Cream formula – NOT a dupe but if you're familiar with that texture, Super Shock Shadows are in a similar vein.
Swatchfest
NB: All mattes are infused with a very fine shimmer. We see this frequently, absolute mattes are hard to formulate.
Animal – Satin Finish // A mid-toned vibrant coral with sparse gold flecks. Colourpop describes this as neon, I'd say it stops short at vibrant.
Cheeky – Satin Finish // Pale peachy pink with fine, multicoloured reflect. Runs a bit sheer on my medium skin.
BAE – Metallic Finish // Eggplant base with emerald reflect. The duo-chrome is underwhelming since the shimmer is a bit sparse (but I'm garish, y'know).
Bandit – Matte Finish // Medium warm, rusty brown. Infused with very fine shimmer.
Game Face – Ultra Metallic Finish // Rusty copper. Densely packed with pink, lime and gold sparkle.
Sequin – Metallic Finish // Rich copper base with pink, gold and silver shimmer. I would class it as part of the 'Ultra Metallic' line, actually. Potentially my favourite.
La La – Metallic Finish // Pinkened sand base with multicolour reflect. Colourpop describes this as rose gold… not quite pink enough for my idea of rose gold.
Hustle – Matte Finish // A reddened burgundy infused with fine shimmer.
Desert – Satin Finish // A sandy gold with pink and gold micro shimmer. Registers as sheer on my medium skin.
Dare – Metallic Finish // Vibrant pinkened violet base with violet and silver shimmer. This one swatches better than it applies on the eye.
Mittens – Matte Finish // Deep reddened brown infused with very fine shimmer.
Get Lucky – Metallic Finish // A cool toned gold base with pink and gold reflect. Another that I would classify as 'Ultra Metallic'.
So Quiche – Metallic Finish // Muted olive base with pink and gold reflect. Another duo-chrome that I found underwhelming, could have been more generous with the shimmer.
Best/Worst Performing Shades
Overall, the Metallic/Ultra Metallic shades performed better than the Matte (matte-ish?) shades. The greater the shimmer, the better the payoff and blend-ability. The shades I love and would recommend: Sequin, Game Face and Get Lucky (in that order).
In hindsight, I could have easily skipped Cheeky and Desert, both are uber subtle on my NC20-25 skin (although subtle may be your thing!).
I was super excited about the idea of a matte cream shadow but unfortunately, I was underwhelmed. The matte shades are tricky to blend on my normal/dry lids, a powder shadow is much less hassle.
Application
Colourpop recommends applying using a finger and I totally agree, pressing the product with a finger provides true-to-pan payoff. I then quickly blend edges with a synthetic crease brush, whereby I have about a minute playtime. Crease work becomes tricky because one must use a brush – I found that I had to build quite a bit to reach full opacity and the edges were a bit choppy for my liking.
The shimmery shades do produce a bit of fallout as you blend, thankfully it's not glitter of the herpes variety and any stray flecks are easily swept away with a brush, no biggie. I did experience a minor amount of fallout as the day progressed, but again, easy to sweep away. If fallout is your dealbreaker, do keep this in mind.
Longevity
Super Shock Shadows are incredibly long wearing on ma face: no creasing, fading or migration. I trialled the shadows with and without a primer and didn't notice a difference in wear time. If anything, applying the shadows over a primer made blending a headache so I won't be doing that again!
Reviews suggest that oilier lids do benefit from a primer to mitigate creasing, but I can't attest to that personally.
Blendability
Perhaps my only legitimate complaint: I would have liked a little more slip to the Super Shock Shadow formula to aid the blending process. This may be a function of my skintype (dryer every year) but if I attempt to create an entire eye look using Colourpop alone, I'm left with tide lines above the crease that I cannot for the life of me buff out.
As a consequence, my most successful looks involved a Coloupop shadow on the lid, edges blended with a synthetic brush and crease work accomplished with powders, as usual. I demonstrated this in my Spring Goddess Makeup Tutorial…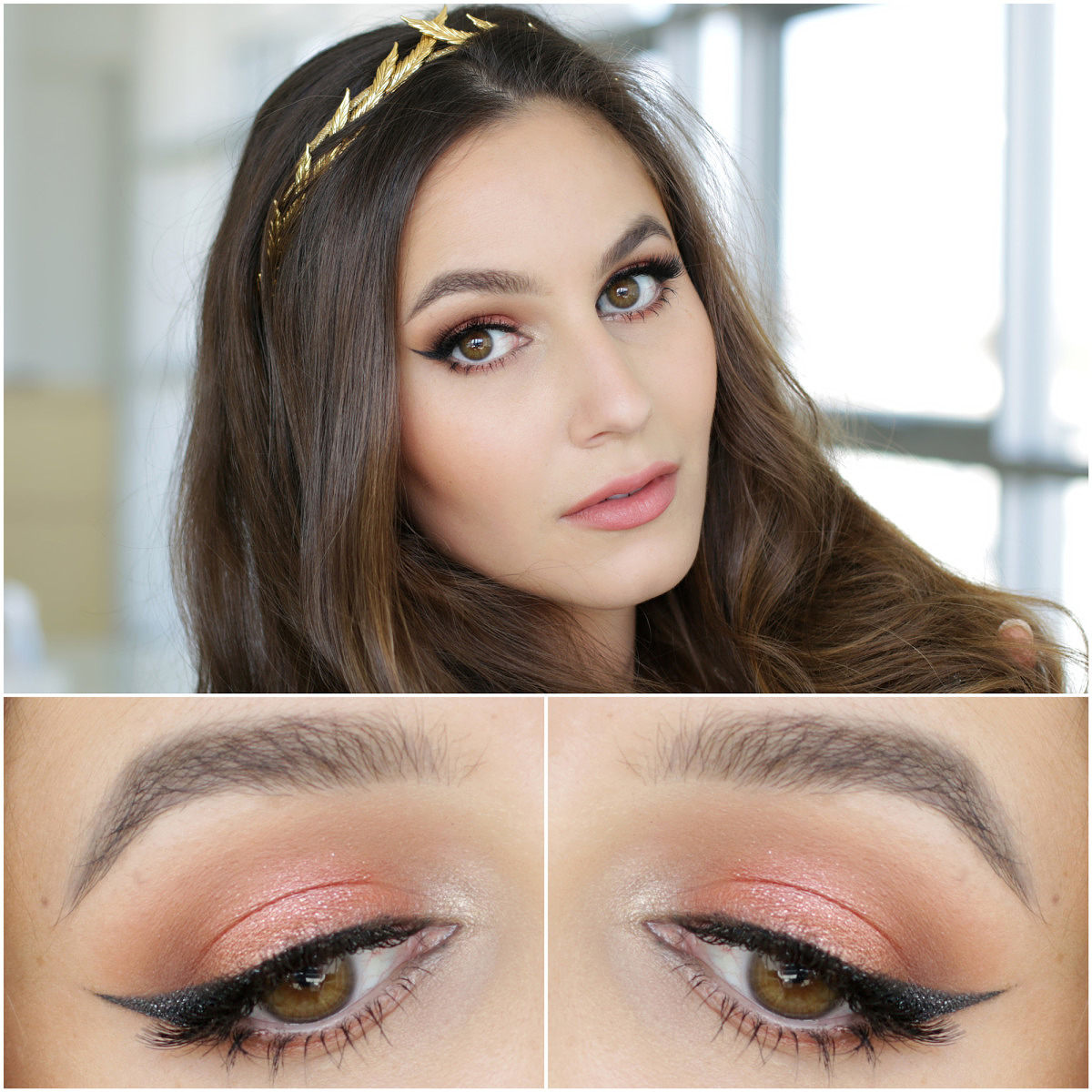 Sequin on the lid, FYI.
Price & Value
Super Shock Shadows are priced VERY competitively at 5USD a pop for 2.1grams or 0.07oz. Returning back to the Chanel Illusion D'Ombres, which retail for 36USD for 4grams or 0.14oz.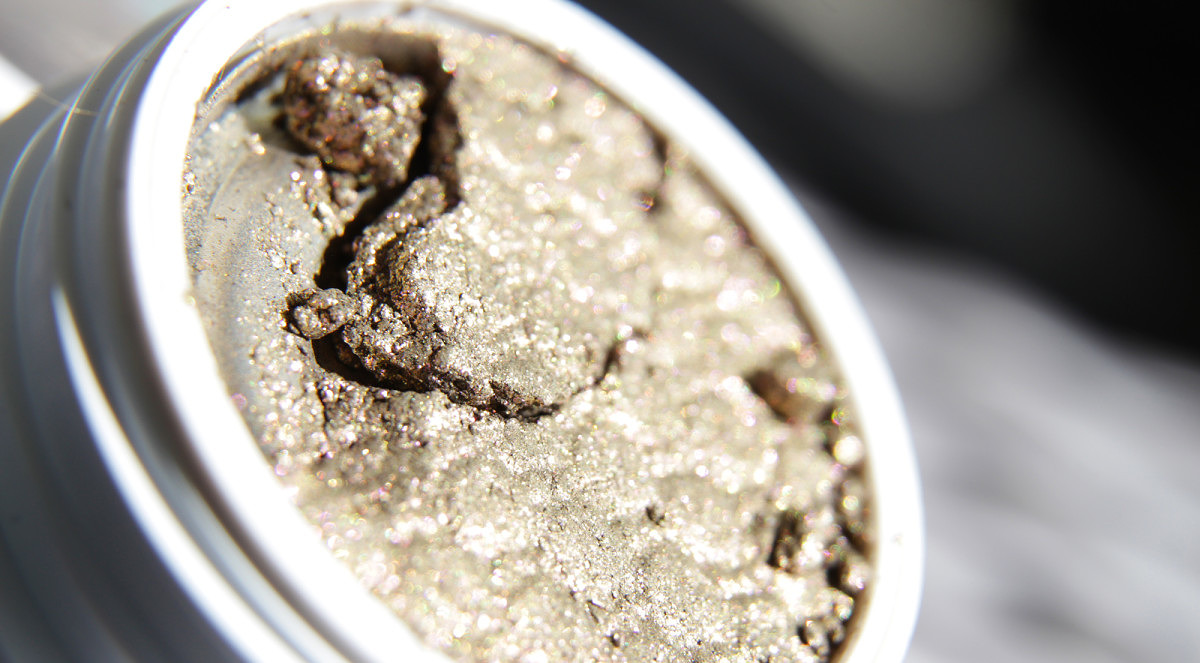 My So Quiche arrived smashed, apparently Colourpop has impeccable customer service but I wasn't blown away by the shade, so I didn't enquire. MY POINT IS: the product is only a few millimetres deep, which surprised me and I imagine it would be rather easy to hit pan. But it's 5 bucks. And would probably dry out before you finish. Just a thought.
Overall
I love the Metallic/Ultra Metallic finish Super Shock Shadows as a lid shade paired with powders in the crease. They are indeed an interesting formula and the shade range is beyond exciting. I introduce a Colourpop shade as a focal point but it's not a one-stop-eyeshadow-solution for me.
At the time of writing, Colourpop ships to USA, Canada, Australia, New Zealand, Puerto Rico, Guam, US Virgin Islands and APO's.
Have you tried the Colourpop Super Shock Shadows? I have some Lippie Stix and Lip Pencils too, if you guys are interested in that. I leave you with this…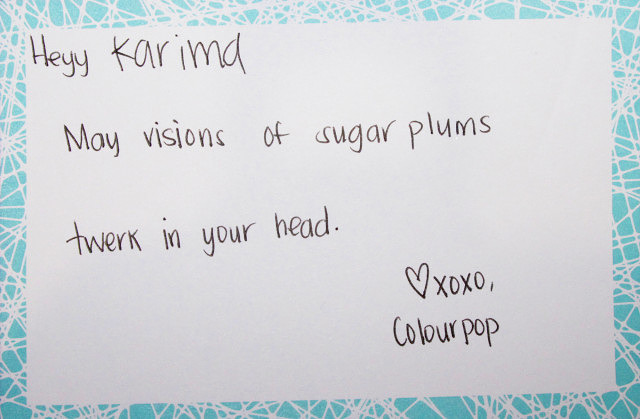 xxkarima
Disclaimer: Colourpop provided a voucher for PR purposes. I pitched in plenty of my own moneys because HAULING.