A showcase of some of my favourite cool-toned pink lipsticks and how I like to wear them. Coz I vehemently disagree with magazine propaganda – pink lipstick is always in season.
Yves Saint Laurent Rouge Volupte Shine – 19 Fuchsia In Rage
I featured this in my favourites of the moment video and posted about it on Instagram; love at first swipe. Lisa Eldridge described this as cyclamen pink (which I had to google, not a flower person) and that is pretty darn accurate – a cool toned pink that becomes progressively purple-r with layering. A light and balmy formula with no compromise on colour impact, it also leaves a pretty stain.
By Terry – Cherry Cherry 304
I paid 85AUD (?!?!) for my first Rouge Terrybly (the price has since dropped to $66, Australians) and I don't regret it, it is my favourite formula to date: super pigmented, near matte and very comfortable to wear. Cherry Cherry is aptly named, a deep pink with cherried hues. I'm so besotted with the Rouge Terrybly line that I plan to complete my collection while in New York this December (who needs food?)
NARS Schiap
I saw this amazing hot pink lipstick on the catwalk and…*interrupts*It's probably Schiap. In swatches it appears to be a stock-standard hot pink lipstick but on the lips it is the quintessential, high fashion statement lip. Pigmented with a creamy matte formula, Schiap lives up to its reputation and I'm sheepishly wondering why I waited.
SUQQU Creamy Glow – Saebana 01
More of a soft, neutral pink; I included Saebana because it does pull cool on me. I tend to prefer matte, pigmented lipsticks (go hard or go home) but I do gravitate towards the moderate pigmentation and moist texture of Creamy Glows when my lips look used and abused. From what I understand, SUQQU appears to be phasing out the line which is a crying shame – I've ordered one of the new Bright Up Lipsticks but I'm doubtful any improvement could be made on the CG formula.
Becca Beach Tint in Lychee
Another standout formula, Becca Beach Tints are a silicone-laden tube of glory; mulitpurpose cheek and lip tints that set to a skin-like finish. Lychee has always struck me as a bubblegum pink but recently, I've been giving it the side eye because I can detect something different…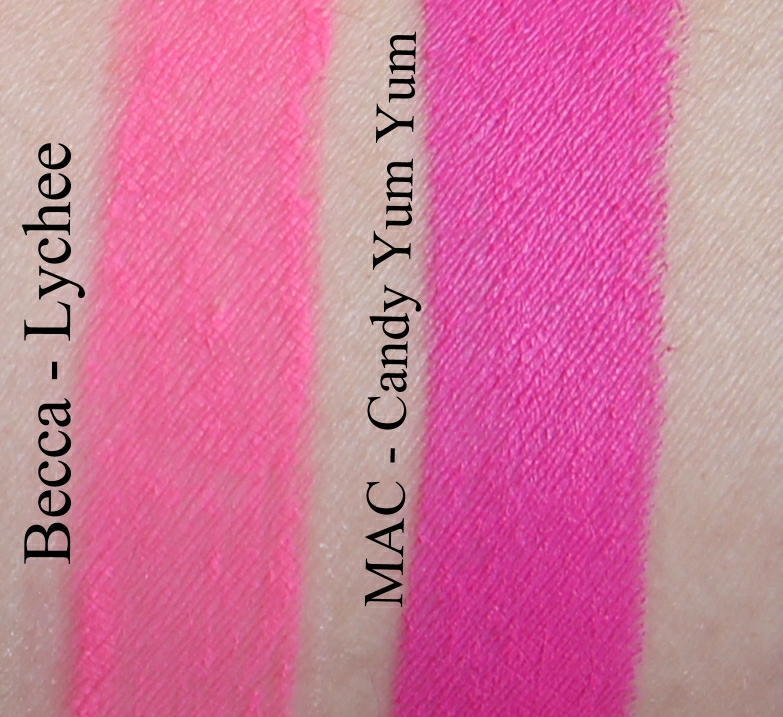 A neon-flamingo-hint-of-warmth? Sneaky. Well played, Lychee.
MAC Candy Yum Yum
I get the feeling that Candy Yum Yum has a skanky reputation, likely a result of its participation in MAC limited edition hype (I'm onto your game, MAC). I went into MAC one day and asked the sales assistant to direct me to their brightest, most obnoxious neon lipstick (I'm that customer). I walked out with Candy Yum Yum and… I kinda love it; a neon blue-based pink.
Addiction Lipcrayon – Rose Petal
Downright boring and muted next to Candy Yum Yum, you can see a more accurate depiction and review here.
All of the above are shimmer-free.
I kinda wanted to depict how versatile cool pink lipsticks can be by creating three different looks with entirely different personalities. My inability to wear eye makeup confined my capacity to do this but you can use your imagination 😉
Whimsical
Playing with the femininity of pink: throw some flowers in your hair, get highlighter-happy and pair with a softer brow. Mandatory: Lashings of mascara, so I can vicariously live through you.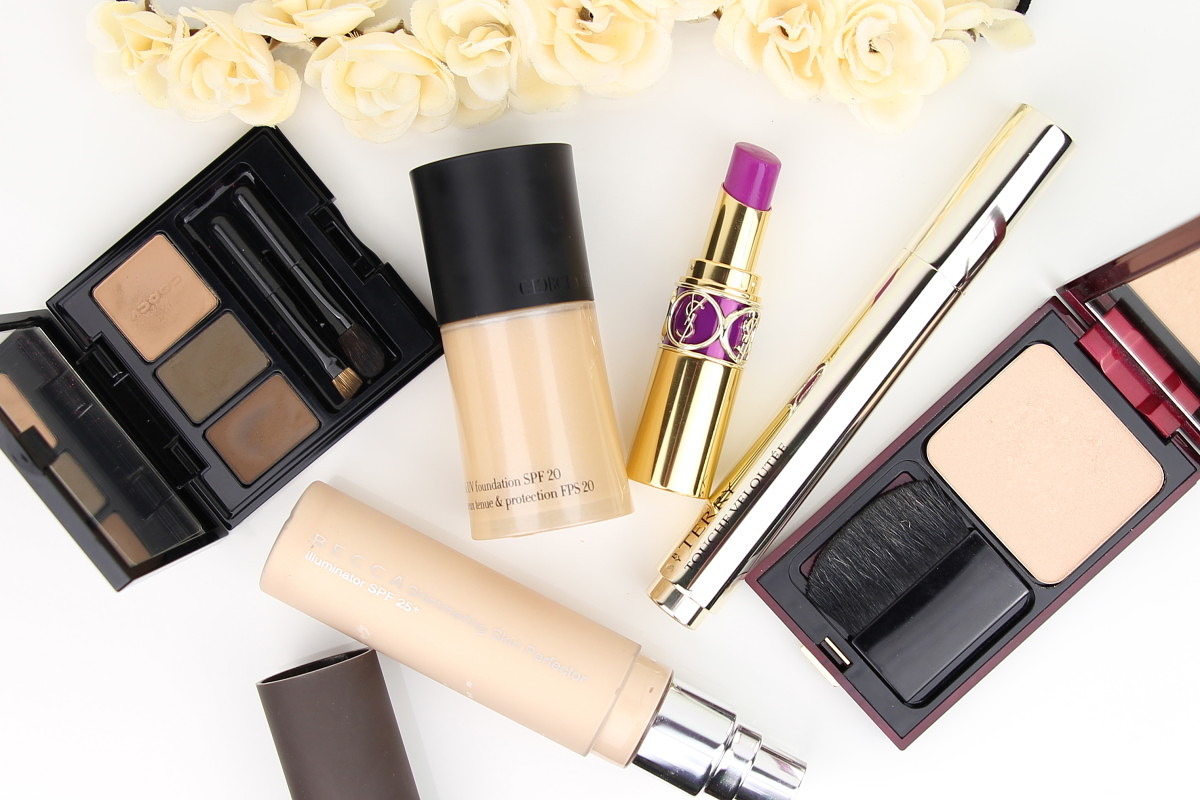 SUQQU Brow Powder – Moss Green // I tend to use the middle grey portion with a damp brush.
Giorgio Armani Lasting Silk Foundation – #4.5 // One of my many shades
Yves Saint Laurent – Fuchsia In Rage // The star of the show
By Terry Touche Veloutee – 02 // To detract from any shadowy areas
Becca Shimmering Skin Perfector – Moonstone // A warm beige highlight, the perfect medium between Pearl and Opal
Kevyn Aucoin Celestial Powder – Candlelight // I said highlight happy, mmk?
Boy Meets Girl
Contrasting with the girliness of pink: textured hair, a straight n boyish brow, minimal base and some ashy contouring. Mandatory: A blazer.
MAC Face and Body – C2 // A complexion that is perfected but not too perfect
SUQQU Nuancing Loose Powder – Natural // To set the foundation for a skin-like finish
SUQQU Brow Powder – Moss Green // Making yet another appearance. Middle, ashy shade
SUQQU Brow Pen – Moss Green // To sharpen up my non-existant tails and add more variation in the brows
Anastasia Tinted Brow Gel – Granite // MOAR variation in brows, this time in texture
Chanel Contour – Notorious // Why a limited edition 🙁
NARS – Schiap // Straight from the pages of Vogue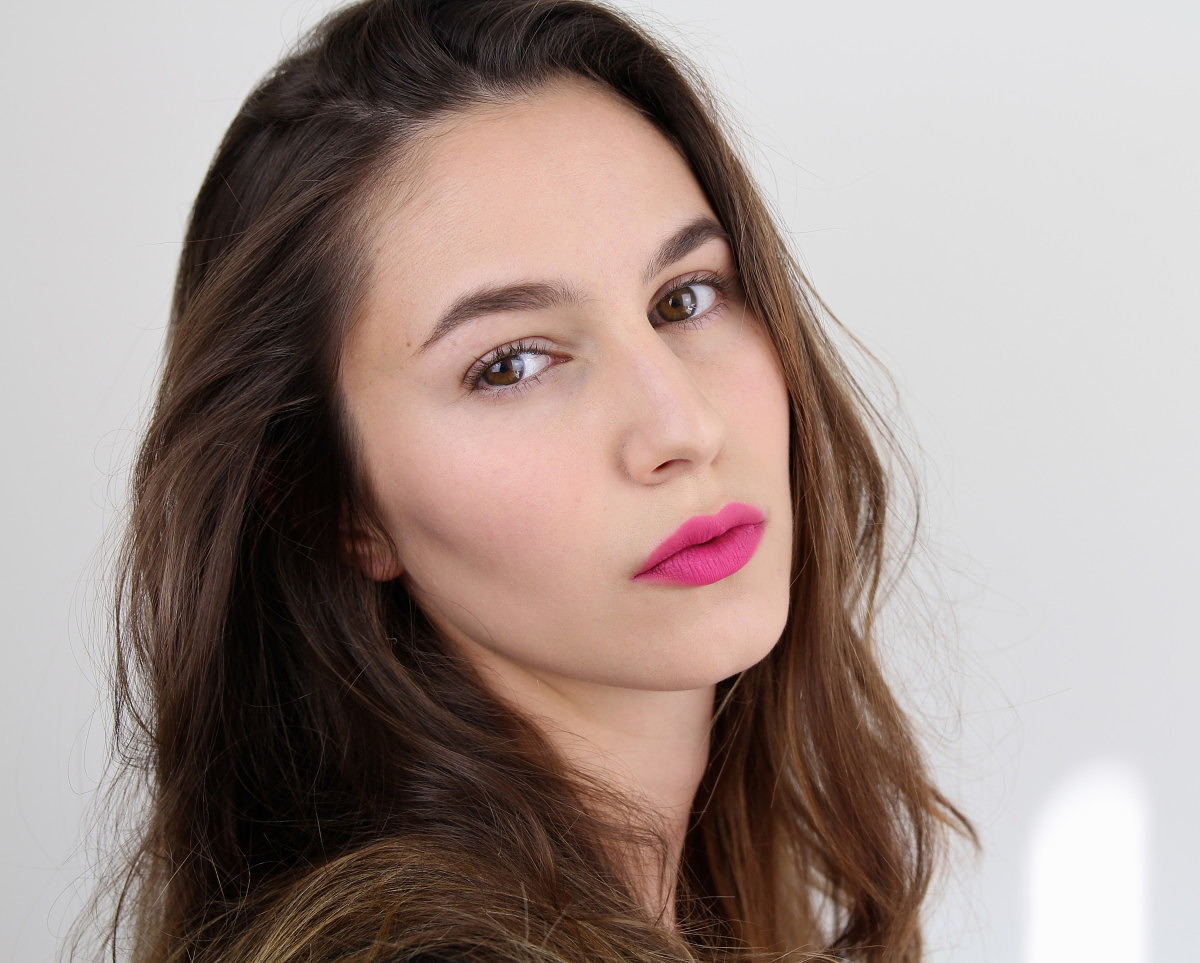 Clashy
I love a cool pink with otherwise warm makeup: a slightly warmer brow than usual in addition to a warmer complexion. Not a 'safe' pairing but it allows Candy Yum Yum to stand apart from the face, in case it wasn't obnoxious enough! Mandatory: A good memory, introduce a fraction of warmth on the neck and ears so your face looks as though it belongs to your body.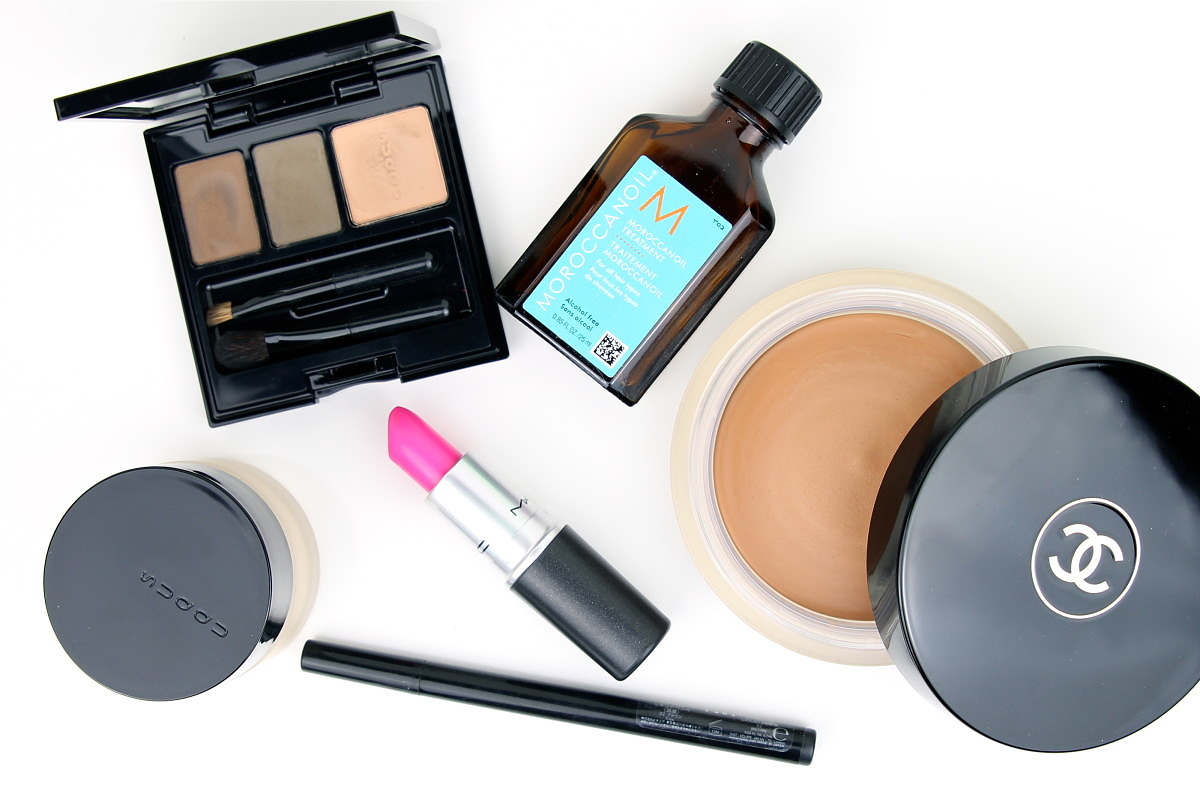 SUQQU Brow Powder – Moss Green // So…I'm really enjoying this! This time I used the slightly warmer shade on the left
SUQQU Brow Pen – Brown // Through the tails
SUQQU Frame Fix Cream Foundation – 002 // Down the center of the face
Chanel Soleil Tan De Chanel// Much polarity on this product; I quite like it on occasion, used sparingly. If you're pale, no wai!
Morrocan Oil – Treatment // A silicone concoction sold under the guise of Argan Oil. It works.
MAC – Candy Yum Yum // Cool and stark against the warmth, I dabbed my fingers on my lips then applied the residue to the apples of the cheek to pull it together.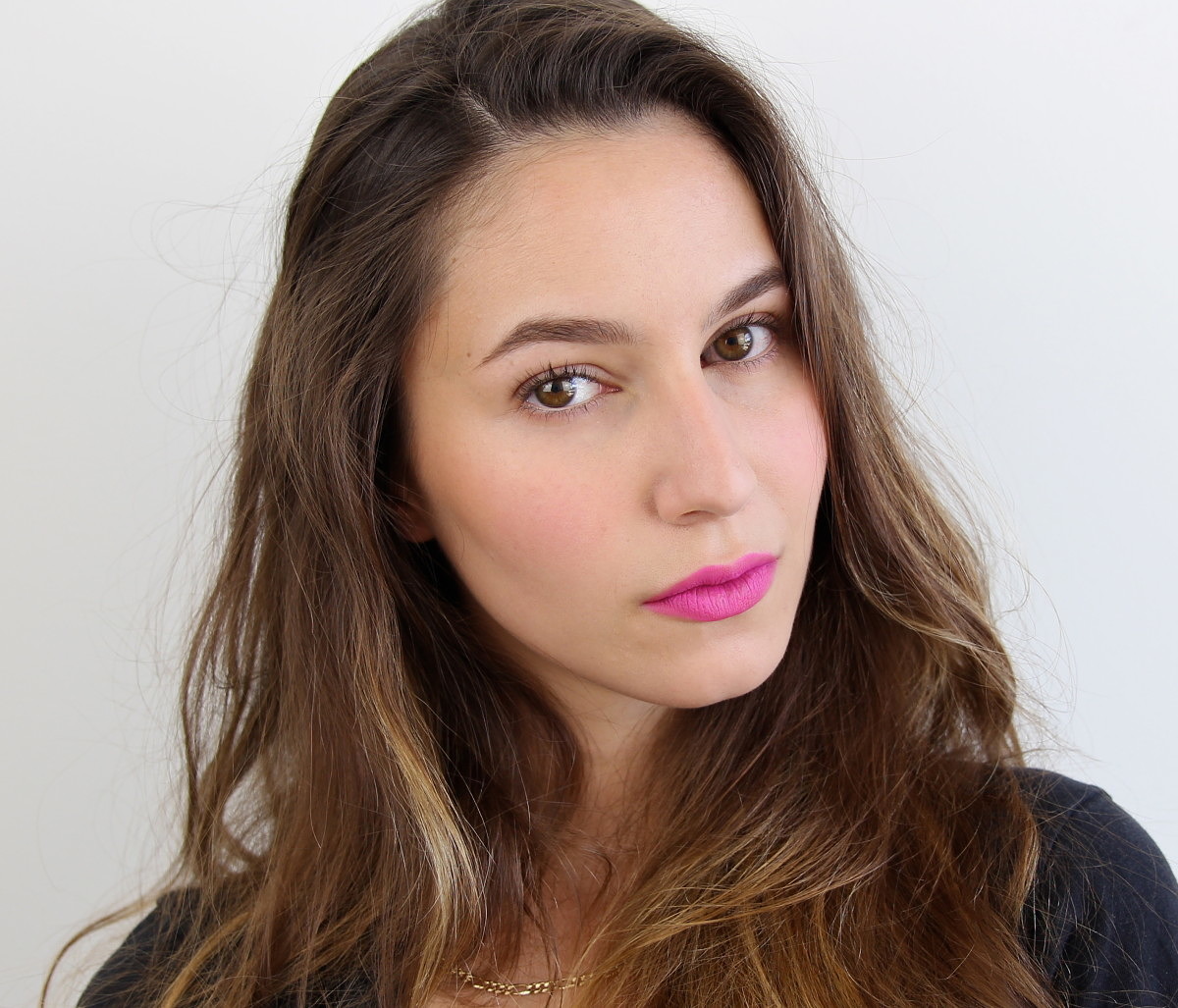 Do you guys enjoy shade spotlights? If so, I'll progress with the warm pinks 🙂
xxkarima