If you haven't heard of Rae Morris or her brush collection, I forgive you. In short, Rae Morris is: a best selling author, L'Oréal Paris Makeup Director and four times Australian Makeup Artist of the Year. She put Australia on the makeup map, it's kindof a big deal.
Let me recount the day I first met Rae Morris. I had just started my shift at Mecca Cosmetica when I saw a lady swatching away at the NARS counter. I proceeded to make small talk and chit chat about the terrible weather. She seemed interested in the brand so, like a good employee, I invited her to the upcoming NARS event. She kindly explained "Oh I would love to, but that may conflict with my L'Oreal contact".
That really confuzzled me so I smiled and nodded and returned to a bunch of coworkers, who were now throwing me dagger stares. Karima, do you know who that is? No…uh oh. That's Rae Morris! Best selling author, L'Oréal Paris Makeup Director and four times Australian Makeup Artist of the Year. She put Australia on the makeup map, it's kindof a big deal.
Well feck.
I still cringe to this day; I liken it to inviting Brad Pitt to an amateur acting class. I met her a second time at IMATS Sydney 2012 (super lovely and down to earth, as always) and purchased a bunch of her brushes.
One thing you need to know about Rae Morris brushes is that they are unique: you won't find close dupes at MAC or even Hakuhodo. To help navigate the unusual brush selection, Rae has offered video resources on each of her brushes, complete with application tips (that are not entirely obvious! Woohoo!).
Today I'm reviewing my absolute favourite Rae Morris Brush.
Ultimate Cheek-Bone #3
The #3 is a contouring brush specifically geared towards cheekbones. Regardless of how crap your contouring skills may be, this brush is utterly foolproof. The fibres form a logarithmic curve (this is what uni does to you, do not recommend) as pictured below.
Application is like dis: place your contour powder on the shorter bristles, position the brush under the cheekbone and stroke towards the center of the face. No blending, no guesswork- the longer bristles blend the contour as it applies.
Can't picture it? See the brush in action: My tutorial (fast forward to 10:15) and Rae's video.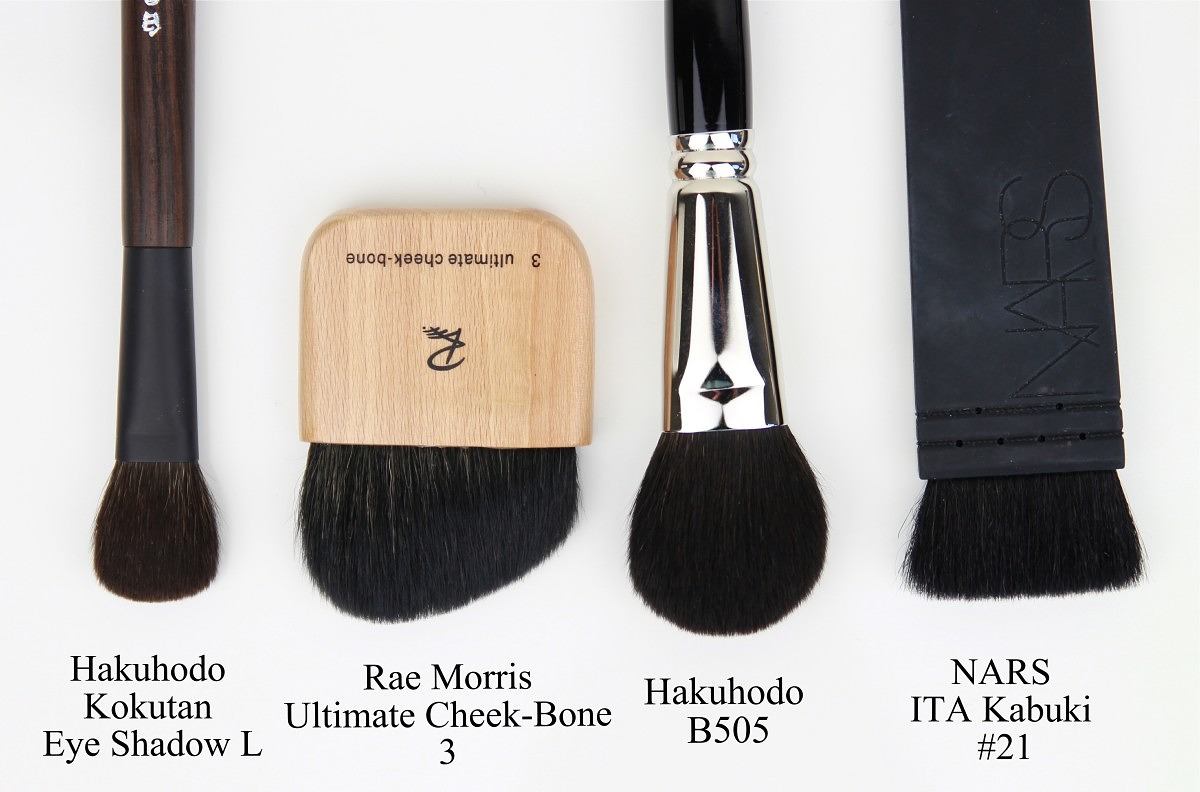 So how does it compare to my other brushes? The closest would be the NARS ITA #21, which has a narrow profile and no curve. Let's be frank, the NARS counterpart is splayed, not all that soft and requires a lot of upward blending upon application.
The good…
The Cheek-Bone brush has a narrow profile which allows precision, the product is placed ONLY in the hollows of the cheekbone to avoid an blown-out bronzed complexion. It's also relatively soft, not as soft as Hakuhodo or SUQQU but c'mon. Finally, it's speedy- I'm talking one minute flat.
The bad…
I see no indication of hair types on the Rae Morris site and I'm not into speculating. Price may be a downfall for some, it's quite an exxy option at AUD60. The #3 brush creates a killer cheekbone but it is somewhat limited to that application; if you're partial to forehead/jaw/nose contouring, prepare to reach for multiple brushes.
Overall…
I love this brush and would recommend it to everyone. Simplicity aside, the effect created by the Ultimate Cheek-Bone is second to none: perfect, chiseled cheekbones. Just a few strokes and I'm strutting like Angelina Jolie in The Tourist. I don't know how Brangelina meddled their way into this post, that is…not okay.
The Rae Morris Ultimate Cheek-Bone #3 is available individually and as part of a set on her website (currently sold out, evidently many people agree with me!).
xxkarima