Upon reviewing base products, I become a lunatic with a magnifying mirror: at the park, the café, in the cab – I have no shame. So when I discover a product that is truly imperceivable on the skin, I gotta tell someone (and that's where you come in!).
Sunday Riley Tinted Breathable Primer (48USD/58AUD), tinted like a tinted moisturizer with the properties of a primer. To me, tinted moisturizer + primer = bored to tears, but when Lisa Eldridge described it as a lighter alternative to foundation with additional blurring qualities, I felt my heart flutter.
Why a cheap packaging? It's functional and has a pump, so I'll forgive that. Housed inside is a viscous liquid, not as runny as many new-age foundations on the market. Rather emollient but not greasy in the slightest, it has the tendency to separate so shake it up!
With a measly shade offering of Light/Medium/Deep, I went with #1 Light which is a deceptive name because it's not all that light; it's but a hair too deep for my winter NC20 skin so if you're any paler than that… sorry to be the bearer of bad news. Light also runs quite warm, so if have distinct pinkened undertones this may pose an issue. The good news is that the pigment is so sheer that there is some flexibility with shade.
Based on Lisa's video I expected the Sunday Riley quasi-Primer to have more coverage so let me stress- the coverage is really, really negligible. In fact, I'm struggling to categorize this product: it's not a foundation because it's far too sheer, it's not a primer as we know it and the texture doesn't resemble any of the tinted moisturisers I've tried. This is making my brain hurt but here is my best blurb- it's a complexion perfector, illuminating shadowy areas and pigmentation. If the subtle effects of Guerlain BALLZ Meteorites Perles have you all hot and excited, the perfecting properties of Sunday Riley Primer will be all up in your alley.
Note: Surface redness around the nose and cheeks, minor pigmentation on the chin, deeper skin around the hairline and a post-surgery hollow dent where my left eye used to be (WTH?! *kicks dirt*).
I apply a single pump with my fingers and a dabbing motion, mainly to the center of my face. Two pumps is probably the way to go but I have some weird paranoia with base makeup that insists I use a lighter hand. The yellow undertones of the Sunday Riley Primer do a fanfreakingtastic job of counteracting most of my surface redness, pigmentation on the chin is blurred (god, I love that word) and the deeper perimeters of my face seem to better match my face.
Most people won't stop here, in fact I imagine most of you will require greater coverage in some areas (unless you are naturally perfect, hatechu). So now you have three options.
1) Go in with your regular foundation (Armani Lasting Silk), either all over or just certain portions of the face.
2) Go in with a concealer (Dermablend Fluid Corrective), possibly around the nose or on any blemishes.
3) Opt for an illuminating pen (Yves Saint Laurent Touche Eclat), for minimal coverage but added illuminating benefits.
On this particular day, I opted for the YSL Touche Eclat #1.5 and one too many coffees.
YSL TE #1.5 has a yellow undertone so it sufficiently neutralises the stubborn broken capillaries around my nose. I also ran a little illuminating pen on the jawline; this is a handy hint for those who have a much lighter neck as it helps to diffuse the line between the face and the neck (without having to bronze up the neck or lighten the entire face).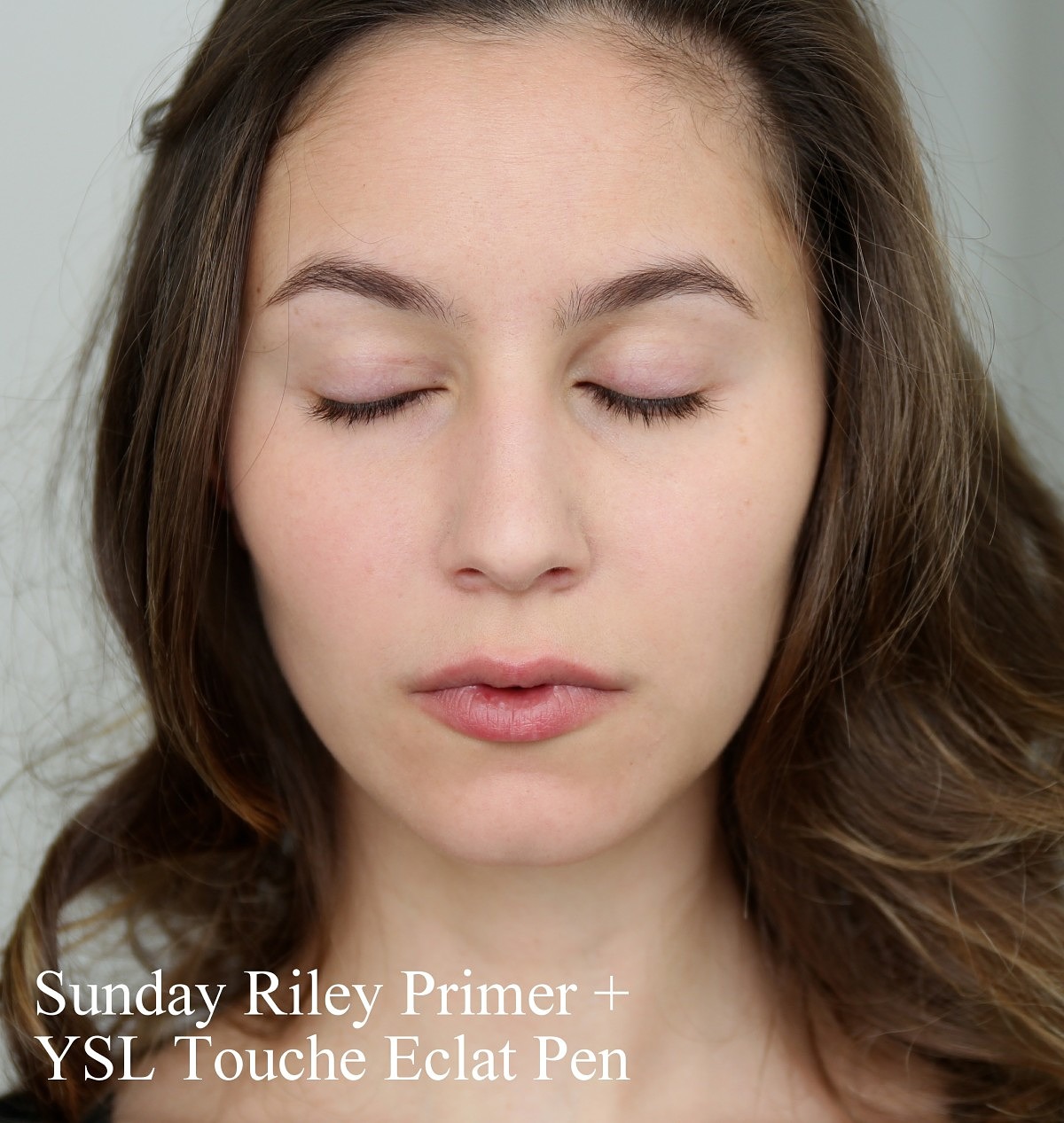 So that's pretty much how I like to wear it! Am I totally flawless and shiz? No, but it's the best darn illusion of no-makeup makeup that I've encountered. The Sunday Riley Primer is, without a doubt, invisible on the skin. Not convinced? I took a macro shot of my nose prior to applying YSL Touche Eclat (honestly…the things I do for you guys).
If there is one place that will give away my no-foundation illusion, it's the crevice of my nose, makeup tends to settle there in my flakes (disgusting and true). I don't see a damned thing 😀
Let's talk about longevity, Sunday Riley Tinted Primer lasts well on my normal skintype- as it freaking should, It's a primer! It has little oil controlling benefits and doesn't claim to, I blot after about 6 hours. Any concealer or foundation applied over the primer exhibits enhanced longevity and adheres very well, minimizing the amount of product required.
Sunday Riley is pioneering the whole skincare-meets-makeup scene, oxygenating and peptiding our skins. While I don't notice any hydration benefits, it doesn't have a drying effect nor did it break me out. SO YAY.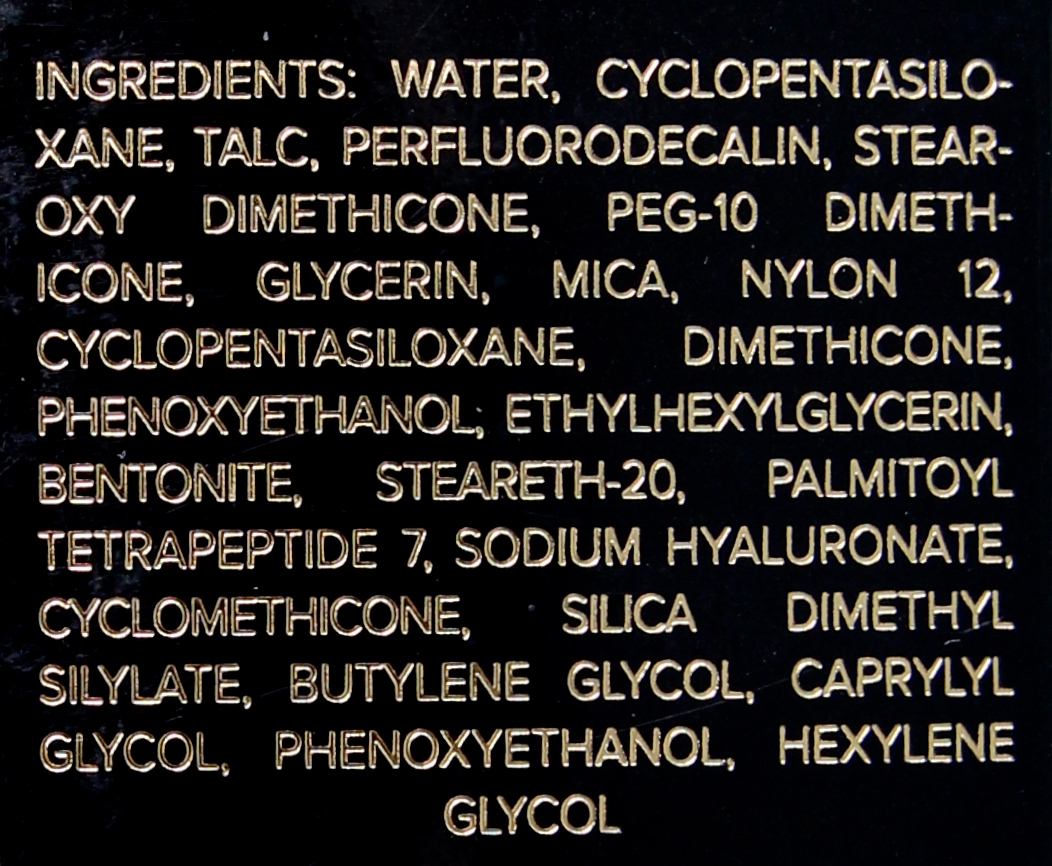 If you got bored of my incessant raving about silicone based products, you'll be happy to know that Sunday Riley Primer lacks the slippery and velvety feel that I so dearly love (but it does have cones, just less of them). It is also paraben free, oil free and SPF free.
Ideal for:
– Those of you with decent skin, who'd just like a little more help.
– My ladies and gents who are wholeheartedly committed to the no-makeup makeup look.
– Dry, normal and combination skintypes.
Skip if if:
– You are paler than NC20 (SORRY ☹)
– You prefer a full coverage, flawless complexion.
– You are particularly oil-prone or seek an entirely matte base.
Overall, this is my favourite find of 2013 and I don't say that lightly.
xxkarima