Previously, I owned quite a few of the Rouge Bunny Rouge Loose Glitter Pigments Fire Drops (say that five times fast) and I was just about to pull the trigger on the final few when Rouge Bunny Rouge offered to send me sample sizes. I must have been a good person in a past life, or something!
Now that I have the entire collection, I bring to you…*drumroll* SWATCHES!
Rundown of shades, shall we?
Caress of Mink: Medium taupe-brown with flashes of bronze, plum and pewter.
Embrace of Cashmere: Exactly as I would picture cashmere, a soft and neutral gold.
Eaten all the Cherries: Strong duochrome here, cherry pink that leans yellow gold depending on the angle. Lends a rose-gold appearance.
Wishing For Wings: Muted lavender with very fine, silver shimmer. Definite taupe tones.
Night Wind Sailing: Metallic pewter that leans blue, purple and grey (what is this sorcery?)
Spun From Sunny Seawater: Zuneta hits the nail on the head here: 'Iridescent blue peacock feather, with a hint of tropical emerald and scintillating gold accents'. Scintillating? Really, Zuneta?
Sleeping under a Mandarin Tree: Duochrome ahoy! Peach and pink with gold highlights. An old favourite and an incredible tear duct highlight.
Pictures speak for themselves, really. In soft lighting or cloudy days, Rouge Bunny Rouge Fire Drops have a refined and sophisticated shimmer.
Don't be fooled, step into direct sunlight and POW!

POW POW!
POW POW POW!
All the angles, yo.
Thoughts
Despite the name 'glitter pigment', I'm not sure I would classify these as glittery at all – I would say it's a finely milled shimmer that imparts a metallic finish. What really baffles me about these pigments is how vastly they change in different lighting situations; in dim light, the colours appear muted while in full sunlight, they become vibrant and multi-colour shimmer emerges. Hands up, who saw the rainbow shimmer in the previous shots? Let's have another look.
I did my best contortionist impersonation in attempt to capture this, but alas… In person, it was ALL TEH multi-coloured beautifulness. Even the decidedly wearable shades (Embrace of Cashmere) are shot through with pink, blue, green, gold etc micro-shimmer. Eyeshadows with depth and complexity are my primary weakness – Fire Drops really hit the spot.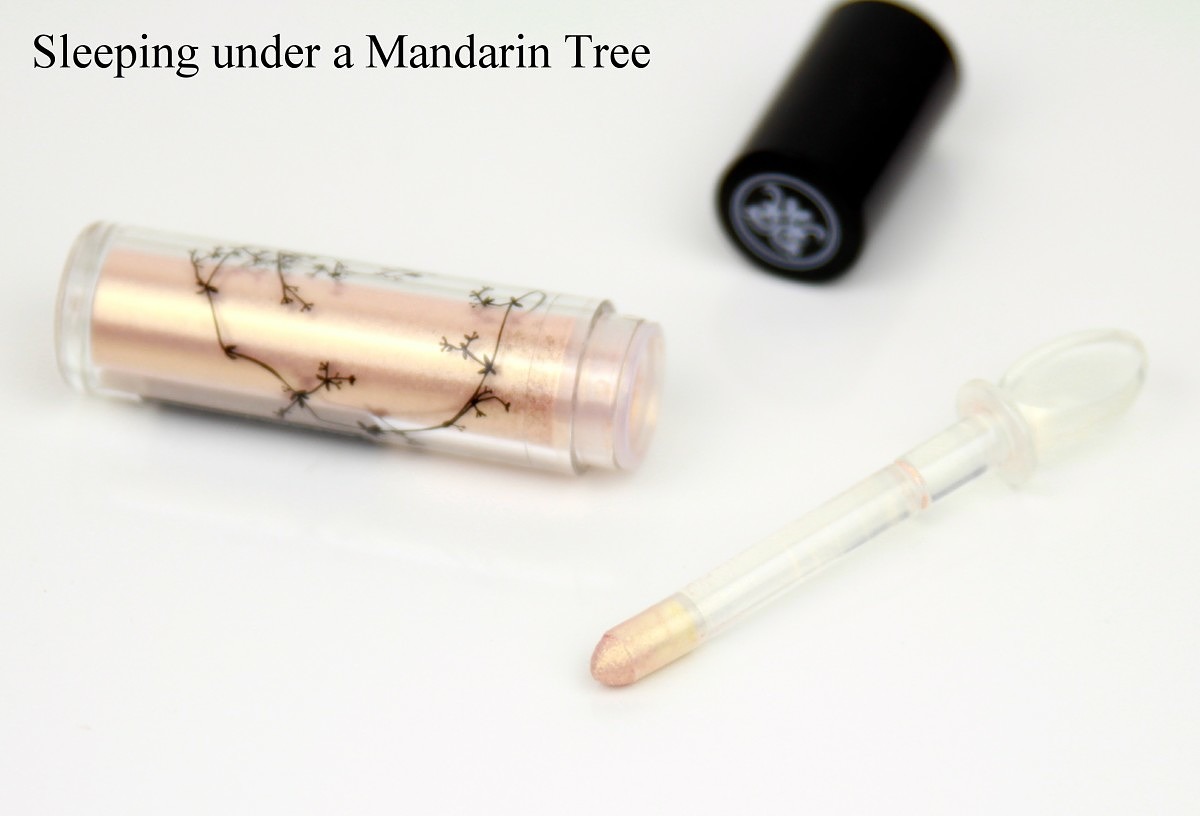 My only beef is the packaging. Product presentation rarely bothers me but this is a pain in the ass; the only way to dispense product is to use the sponge tip applicator and I'm partial to brushes. I do understand the thought process behind it, the powder is so finely milled that it has the tendency to disperse in the air (if you so happen to breathe in that direction!) and this tube-thingy keeps it to a minimum.
Like all pigments, Fire Drops have a knack with application. I've found that a sticky base is a MUST for enhancing vibrancy and to ensure that the pigment doesn't migrate around the face (multi-colour moustache, anyone?). All swatches were patted over a thin layer of LA Splash Eyeshadow Sealer, although, Fyrinnae Pixie Epoxy and cream shadows work just as well. Additionally, a dense, flat brush is your best friend with pigments (pat, don't swipe!).
Whether you enjoy colour, complexity or neutral shades, Fire Drops will stun many. Those who are anti-shimmer, obviously, will decide to skip on these.
Fire Drops are available for purchase at Rouge Bunny Rouge Boutique, Zuneta and Beauty Habit.
My favourite? Probably Sleeping Under a Mandarin Tree, purely for versatility. However, that peacock shade is calling my name *plots*.
xxkarima
Samples have been provided for consideration. All opinions are my own and I am not compensated/paid for any reviews.